What is ECG Electrode Snap button ?
Aimee Ye Original release by Goochain 2023-01-08 11:13:46
The main structure of the female electrode snap button is a nickel-plated electrode Snap connector, which has good electrical conductivity, small resistance, and good conduction. Connecting wires and various electronic lead wires are snapped on. These are reusable electrodes that attach to standard snap-in leads and can be used for EEG measurements or other parameters such as EMG, ECG or EOG.
Medical electrode female Snap button / ecg buckle :
We currently have 3 types of medical electrode female snaps, flat electrode female snaps, electrode female snaps with riveting terminals, and three-claw female snaps. The materials are gold-plated or nickel-plated copper. The existing sizes are 2.5mm, 3.5/4.0/5.0mm ECG Snap button, if you have special requirements, we support customization.
1. Flat Medical Electrode Female ecg snap button:
Type: medical physiotherapy electrode female buckle, easy to weld PCB ECG Snap
Material: nickel-plated copper, gold-plated
Size:2.5mm, 3.5mm, 4.0mm, 5.0mm
Uses: fastening and signal transmission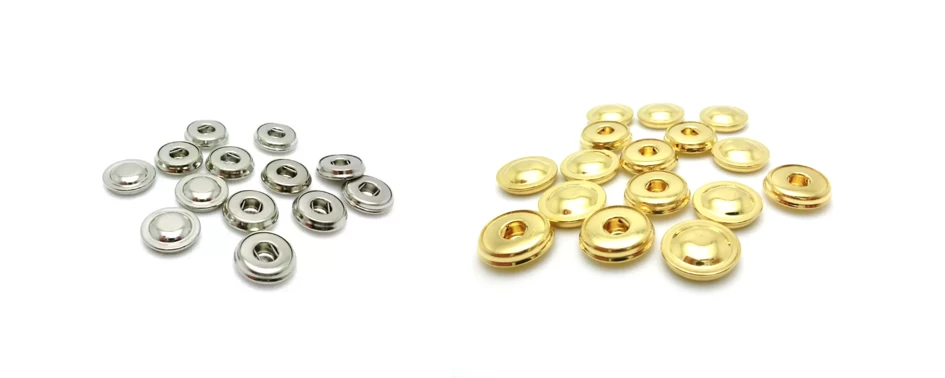 2.Terminated Female ECG Snap button:
Type: riveting type electrode female Snapt, mortise type electrode Snap button
Material: nickel-plated copper, gold-plated
Size: 2.5mm, 3.5mm, 4.0mm, 5.0mm
Uses: ECG lead wires, various electronic lead wire snap buttons

3.Three claw female Snapt button / buckle
Type: Physiotherapy electrode female buckle with three claws
   Material: nickel-plated copper
   Size: 2.5mm, 3.5mm, 4.0mm, 5.0mm
   Uses: Medical monitors, physiotherapy instruments, electronic equipment signal transmission and fastening